The Oaks, Chapel Hill Neighborhood Homes for Sale, Market Statistics and Schools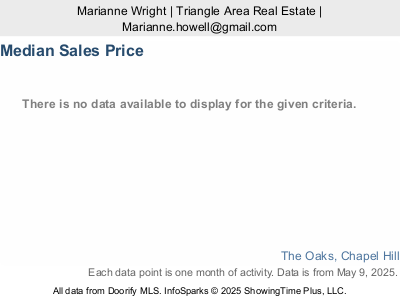 Oaks Neighborhood Overview
The Oaks surrounds the Chapel Hill Country Club. The first phase of the neighborhood was developed in the 1970's. In the 1980's a local developer and builder developed a new section of the neighborhood with most of the homes located in the Chapel Hill School District and a smaller section located in Durham County with Durham County Schools. Both areas have a Chapel Hill address so it's important to specify what county on your searches if the school system is important to you. Homes for sale in the Oaks in the Chapel Hill School District.
Homes in The Oaks are of varying styles and sizes. Golf course lots have always had a premium and the largest and most expensive homes have a great golf course view.
The neighborhood streets are fairly manicured but as time has gone on trees have grown up and the landscaping has matured. When I drive clients through the Oaks I often hear "this is so beautiful".The homes are pricey though and when we take a look at what's available, other neighborhoods in Chapel Hill are often the choice.
What are the schools for the Oaks?
Not all of the homes in the neighborhood are assigned to the same school. Homes in the Burning Tree Rd. section of the Oaks are Rashkis Elementary, Culbreth Middle and East Chapel High. When you turn left on Pinehurst Dr. from Burning Tree the schools become Ephesus Elementary, Phillips Middle and East Chapel Hill High.  Part of the neighborhood is in Durham County Schools.